App and software Development
Level up by creating software made just for you.
We engineer applications for modern businesses. Today's organizations find themselves needing to modernize their operations through custom made software that specifically functions as an automated helping hand. At Nutech Digital, our app development services will help you achieve your goals in an increasingly digital world. The result? An enterprise that's always ready for you, your staff, and your customers.
During our initial meeting we will:
Get to know your business and your consumer base.
Identify your needs and requirements.
Spot areas of improvement, if there is already an existing app/software
Brainstorm using your ideas and our knowledge
Create a plan that best highlights the functionality of your app/software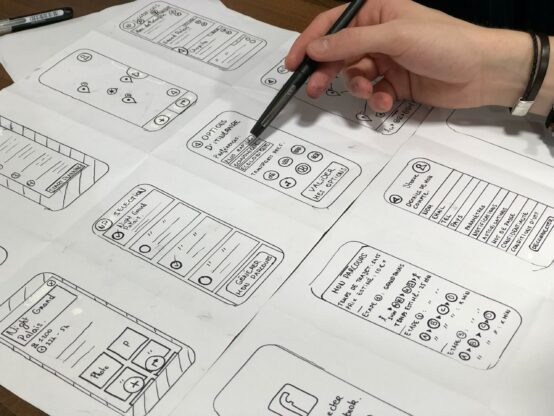 Custom App Development
We develop interactive, dynamic, and user-friendly applications from scratch or revamp your existing software with custom-tailored features. Our work promotes enhanced scalability and flexibility with a more streamlined and automated approach.
Nutech develops cross-platform software to help businesses target multiple devices and browsers such as iOS, Android, and Windows.
Our industry-specific experts are capable of delivering web & mobile applications for all kinds of industries.
UX/UI Design
UI (User Interface) and UX (User Experience) is the design of the interface of your software/application.
Our team of web and design professionals work together to meticulously craft a user interface with a functionality first mindset. We marry attractive app design with purpose and objective.
Starting from wireframing to the final product, we do multiple testings to ensure that user experience is smart, innovative, seamless, and intuitive. We also regularly correspond with you, our client, to confirm you're on board and loving the results every step of the way.
Security and Compliance
We ensure compliance with data security regulations. As an IT service firm, we know how important it is to security is. Whether its for your internal protection or for your customers and users. You can rest assured knowing your data is safe.
We engineer your software to be compliant with various regulations and legal requirements such as PCI, GRC, HIPAA, Financial Services, NDA, and so much more for every project that demands its own set of security & compliance considerations.
Enterprise-Class Solutions
We create custom solutions to provide users with a 360-degree view of their ERP, CRM and financial workflows. We cover every aspect of your enterprise app development—all business objectives are achieved in the most cost-effective manner possible.
Employee-Facing Applications with employee and administrator portals to benefit staff performance and productivity. Ideas like project management and tracking, with managers delegating tasks without delay.
Department-Level Applications designed for specific departments within an company. (For example: accounting, marketing, and sales) to optimize internal workflows and communications.
Company-Level Applications that connect all company departments into a single, centralized network. Giving users access to business documents, databases, and other resources.