Custom Mobile App Development In Winnipeg
Calgary Mobile App Development
Nutech Digital is here to provide mobile app development in Calgary. Our highly-trained developers are able to stay up-to-date on the latest technologies, allowing you to have an incredibly robust mobile app designed specifically for your business. Our mobile apps are designed with security in mind and are future-proofed, so you can be sure that your mobile app will remain reliable and secure over time. With our experienced team of mobile app developers in Calgary, we guarantee that you will have a reliable mobile app at the highest standard.
We're the perfect solution for mobile app development in Calgary
Nutech Digital is a leading mobile app development agency located in Calgary. We specialize in mobile applications that are tailored to the needs of your trucking business. Our experienced team of designers and developers have been working on mobile app development for many years, ensuring that your mobile app is uniquely suited to your business requirements and objectives. With our professional yet experienced approach, each application is built with thoughtful planning, creativity, and modern technologies – so you can be sure that it's up to date when used. Combined with our comprehensive customer service and satisfaction guarantees, choosing Nutech Digital for mobile app development is the best choice for your trucking business!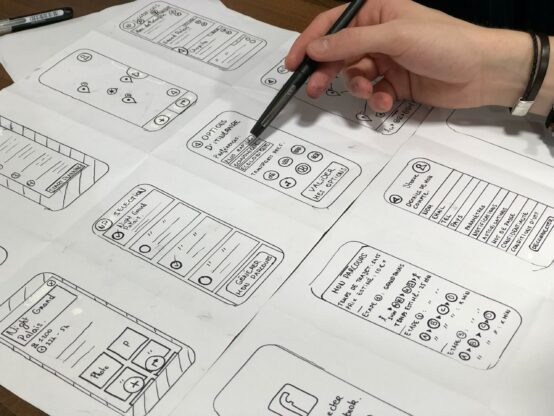 Nutech Digital specializes in mobile app development and offers a range of mobile app development services in Calgary to create apps to fit any purpose.
Mobile App Development
For mobile app development in Calgary, you can trust our experienced app developers to create an ideal mobile application for any business. Our unique UX and UI design options ensure that your mobile application is tailored to the needs of your specific sector, such as the trucking business. We strive to develop applications that run optimally across all mobile devices, giving our customers the confidence that their mobile application works consistently across platforms.
iPhone and Android Development
We are proud to be a top mobile app development company in Calgary. Our mobile apps come with the latest technology and innovations that can meet any business need. Whether the mobile platform is iOS or Android, our developers will skillfully create an app that can help optimize performance and workflow. By using our mobile app development service, you'll have access to cutting-edge mobile apps specifically tailored to the unique needs of your trucking business.
Custom Software Development
When it comes to mobile app development in Calgary, businesses need software solutions that are tailored to their needs. At our company, we provide custom software solutions that allow organizations, like trucking businesses, to streamline their operations and improve efficiency. We offer cutting-edge mobile app development so that our clients can benefit from automation and consistency across all of their business processes.
React Native App Development
As mobile app development experts in Calgary, our developers specialize in react-native mobile app development to create cross-platform applications for Android and iOS systems alike. Our experienced team of certified react native mobile app developers have the competence to understand complex customer needs and develop highly secure mobile apps that feature the latest design trends. Whether it is for a small business or a trucking company, we guarantee customers with reliable mobile app solutions that not only captivate users but also help them to achieve their ultimate targets.
Our Process to mobile app development
Requirements
Our experienced mobile app development team has the expertise needed to analyse project requirements and design the right solution to help meet your business goals. This is essential in order to develop an app that meets specifications, is future-proofed and cost-effective
Design
Our in-house UI and UX designer is uniquely positioned to bring your mobile app development project to the modern standard. By leveraging a dynamic mobile interface and thoughtful user experience strategy, we will ensure that custom applications are intuitively designed for a dynamic experience.
Development
The design process begins with understanding the client's needs before being purpose-built from scratch, then our development team gets to work crafting code that produces the desired results. By the end of the process, we have built a mobile application that is intuitive and fully functional, capable of delivering great experiences
Deployment
Once mobile app development is complete, it's important to thoroughly test the app on various mobile devices to ensure that any potential bugs or errors have been eliminated. This process can make sure the mobile app is ready to be launched and that customers will have a smooth user experience.
Serving The Trucking Industries In Calgary
Nutech Digital has a wealth of experience in mobile app development specifically tailored for the trucking industry. We've been committed to the trucking industry since day one and we have ample understanding of its unique nuances and challenges.
Our commitment continues with our continuously growing knowledge base, cementing ourselves as an expert in mobile app development and custom solutions perfect for any trucking business.
Our tailoring capabilities ensure a smooth transition of mobile apps to suit any operation. With our expertise, your trucking business can benefit from superior mobile app development that is designed with efficiency in mind as your operations grow.